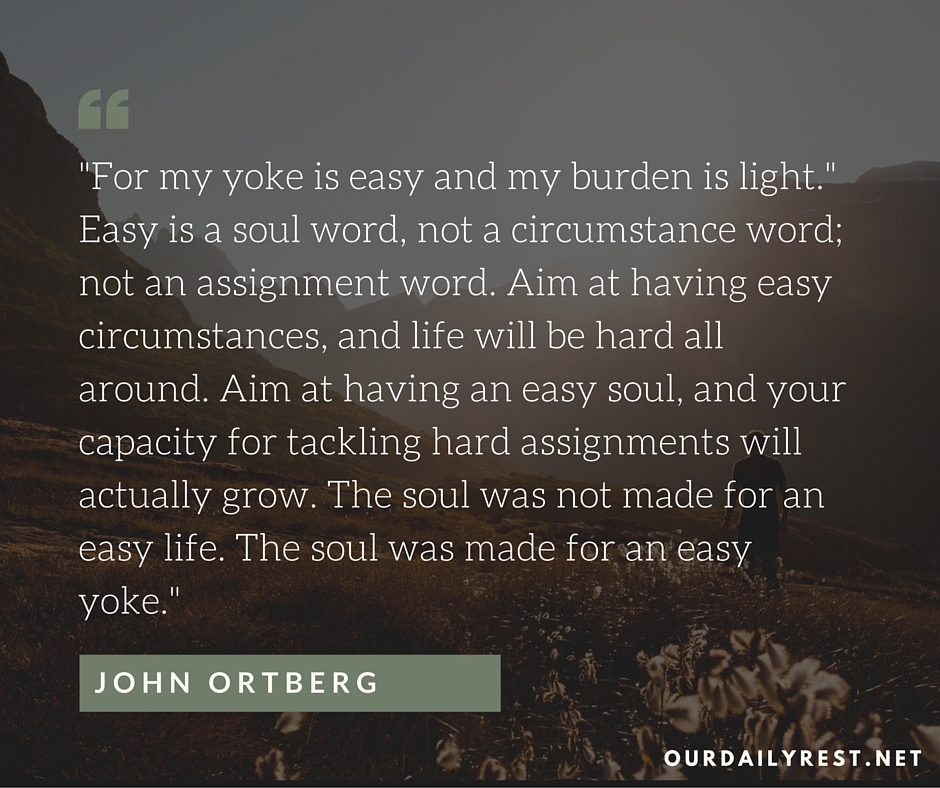 For my yoke is easy and my burden is light." Easy is a soul word, not a circumstance word; not an assignment word. Aim at having easy circumstances, and life will be hard all around. Aim at having an easy soul, and your capacity for tackling hard assignments will actually grow. The soul was not made for an easy life. The soul was made for an easy yoke. – John Ortberg
One of the rarest words in the Bible is the word "Easy". It's a word by my estimation only used about 5 times throughout the entire book.
It's a word that makes us think about easy circumstances or an easy life. But it's not a circumstantial word. It's a soul word.
One that shares the ease of being singly devoted to Jesus Christ and his will for our lives. It's easy on our soul when it's at peace. When it's content.
Our soul is at peace when we take His yoke and learn from Him each day.
How could taking on Jesus' yoke be easy for your soul? What does a life that is easy on the soul sound like to you?
Related Resources
For further reading get John Ortberg's book Soul Keeping: Caring for the Most Important Part of You.
Read the Bible Passage in Context
At that time Jesus said, "I praise you, Father, Lord of heaven and earth, because you have hidden these things from the wise and learned, and revealed them to little children. Yes, Father, for this is what you were pleased to do.
"All things have been committed to me by my Father. No one knows the Son except the Father, and no one knows the Father except the Son and those to whom the Son chooses to reveal him.
"Come to me, all you who are weary and burdened, and I will give you rest. Take my yoke upon you and learn from me, for I am gentle and humble in heart, and you will find rest for your souls. For my yoke is easy and my burden is light."
Matthew 11:25-30